Chimney Caps
We have three styles of chimney cap that can be installed.
| | | |
| --- | --- | --- |
| | | |
| Stainless Steel | Copper | Powder Coated |
Chimney caps are used to protect your chimney from infiltration of water and pesky critters. In addition, chimney caps protect against sparks from your chimney escaping and starting a fire on your roof.
Chimney Dampers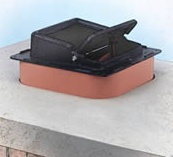 Chimney caps are for protecting your chimney and your home. Chimney dampers on the other hand are for saving you money. We all know that hot air rises. The flue in your chimney is a large open hole that draws heat out of your home. That is why it is so important to keep your chimney damper closed when it is not in use. Chimney dampers help retain heat in your chimney. The difference between having a good damper and none at all can mean hundreds of dollars on your heating bills. At Superior Chimney Sweep company, we use the Lyemance Energy-Saving Damper. It is an amazing piece of equipment that will save you money.
CrownCoatTM Water Proofing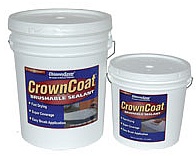 Protecting your chimney's flue by adding a chimney cap is one part of a total solution in protecting your chimney against the elements. The next concern is your chimney's crown. The chimney crown is the 2 - 4 inches of cement that tops your chimney's brickwork. The chimney crown is shaped to divert water away from the chimney.
Unfortunately, even the best masonry can succumb to the amazing power of the weather. When this happens, you need to fix your chimney's crown so that water will not damage your brickwork.
ChimneySaver® Water Proofing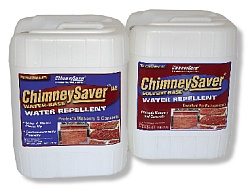 When it comes to protecting your brickwork, we recommend and install ChimneySaver®. water repellent. Much of your chimney is exposed to the weather. Water damage can cause the following problems:
Spalling - is the chipping and fragmentation of your brickwork due to water damage.
Staining - Stains on your brickwork are caused by the leaching of your brickwork mortar and can lead to a breakdown in the structural integrity of your chimney.
Structural Breakdown - We have all seen chimneys with bricks missing or large cracks. Water damage due to the expansion and contraction of your brickwork during harsh winter weather leads to this damage.
The solution is having your chimney protected with ChimneySaver® water repellent. Call us for an estimate.
Chimney Relining System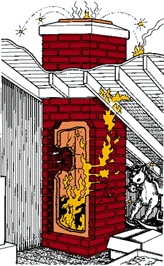 When your chimney's liner has been damaged due to the elements and age, the potential for a life threatening fire or death from carbon monoxide poisoning increases significantly. That is why it is so very important to have your chimney inspected regularly. When your chimney is inspected, we look to confirm that you have a chimney liner (many older homes do not). Then we evaluate it's condition. Does the liner have cracks or broken pieces? We look at the brickwork and make sure that the bricks and mortar are structurally strong.
For chimney's that are damaged, we recommend installing a HomeSaver ProTM chimney relining system. The HomeSaver ProTM Liner is a stainless steel liner that can be installed directly into your existing chimney. This system not only improve the efficiency of your chimney and make it safe again, but it will also save you lots of money by not having to rebuild your entire chimney to install a new flue.
Heat Shield Chimney Repair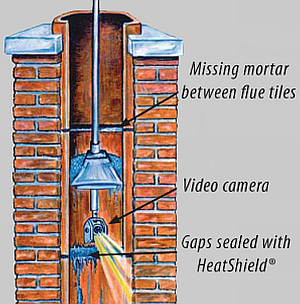 As authorized and factory trained Heat Shield™ installers, The Superior Chimney Sweep Company has all the tools needed to repair your damaged chimney.
Gaps between flue tiles, cracked flues and any other type of chimney deterioration is dangerous. The difficult part is as a homeowner, you can not easily see this damage from the outside of your home. This is why it is so important to pick the right company to inspect your chimney.
At Superior Chimney Sweep, we can take a video of your flue and show you the damage. There is no guessing as to what the condition of your chimney is and whether or not you need to have some work done. You can see it with your own eyes.
Once a dangerous crack or gap between flue tiles is found, your chimney can be easily repaired with Heat Shield™. The Heat Shield™ flue sealant will not only transform your once dangerous chimney into a safe one, but it will also improve the performance of it.
Find out more about all of the ways Heat Shield™ can protect your chimeny, visit the official Heat Shield™ site.
Pricing for a Heat Shield™ repair will be determined on site as the level of repair will differ from job to job.