A professional chimney cleaning is just a phone call away.
Call 860-741-0477
The Superior Chimney Sweep Company provides professional chimney cleaning services to homeowners in Enfield, Connecticut.
In addition to the local area, we also provide chimney service to all of Western Mass. If you would like to see if we service your town, check our service area for a complete list of towns covered in both Massachusetts and Connecticut.
Why do I need my chimney swept?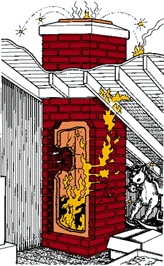 The purpose of chimney cleaning is to remove creosote and soot deposits that have built up during the use of your chimney. These deposits are flammable and reduce the chimney's ability to create a proper draft.
Creosote is the main cause of chimney fires. That is why you need a chimney sweep in Springfield.
Chimney fires are dangerous and can be life threatening. Why put your family at risk?
Having your chimney inspected is quick, inexpensive and gives you peace of mind that your family will be safe when you use your fireplace or wood stove.
Our fees are based upon the number of flues in your home. Please see our fee schedule to get an idea on how much it will cost to have your chimney swept. If you have a special situation, give us a call and we'll gladly provide you with a quote.
How often do I need my chimney swept?
The National Fire Protection Association (NFPA) is the authority on fire, electrical, and building safety. They recommend that you have wood and coal stoves, fireplaces, chimneys, chimney connectors and all other solid fueled heating equipment inspected annually by a professional, and cleaned as often as inspections suggest.
Why Superior Chimney Sweep?
If you live in Enfield, Connecticut or the surrounding area of Northern CT, you are in our service area and we will work hard to keep your home safe. We also cover most of Western Massachusetts.
Locally owned and operated by Master Sweep, Robert LeBlanc, Superior Chimney Sweep has been servicing Massachusetts and it's surrounding area since 1996.
Superior Chimney Sweep is an accredited member of the Better Business Bureau, so you can feel confident that your job will be done right the first time.
We have the experience, with over 30,000+ chimney sweeps, 1,500+ liner installations, and over 3,500 chimney caps installed, you can count on our prompt and professional service.
The technicians are experts in chimney inspections and chimney cleaning. Whether you burn wood, pellets, or coal, you can count on Superior Chimney Sweep to keep your chimney running safely and efficiently.
Our mission: to serve the community by aiding in the prevention of chimney fires. We provide chimney cleaning service all year long.
Call 860-741-0477 today and schedule your next appointment for a chimney inspection or chimney cleaning.